Bonnefantenmuseum voetstappen / footprints

Op het Céramique-terrein in Maastricht verrees in 1993 het Bonnefantenmuseum naar een ontwerp van Aldo Rossi: een tijdloos monument op een markante plek aan de Maas.
Het museum is overzichtelijk opgebouwd: een lange trap fungeert als een logistieke spil van de publieksruimten die zich in drie parallelle vleugels bevinden. De stoelen in de aula en in andere publieksruimten zijn ook gemaakt naar ontwerp van Aldo Rossi. Hij noemde het ontwerp 'il Museo'. De stichting heeft de aanschaf van deze stoelen mogelijk gemaakt.

The Bonnefantenmuseum was built on the Céramique estate in Maastricht in 1993. This timeless monument, designed by Aldo Rossi, occupies a prominent location on the river Meuse.
The museum has a very transparent layout: a long set of stairs serves as the logistic centre piece of the public areas which are located in three parallel wings. The seats in the auditorium and in other public areas have also been based on a design by Aldo Rossi. He called this design 'Il Museo'. The foundation made the purchase of these seats possible.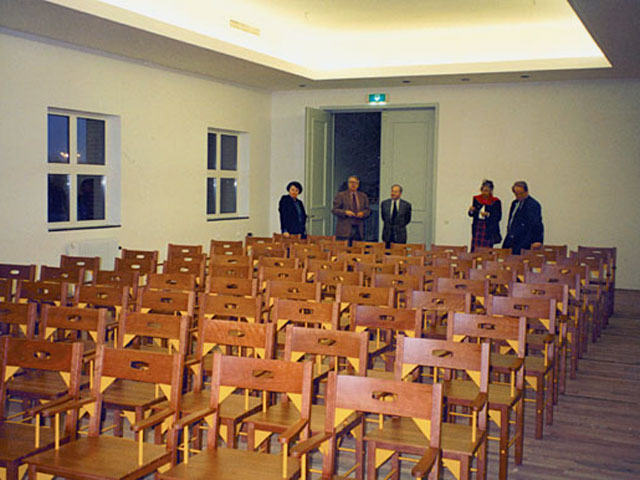 Alexander van Grevenstein, directeur van het Bonnefantenmuseum, toont in 1993 het bestuur van de stichting de aula, waarin de stoelen van Aldo Rossi 'il Museo' in het gelid staan.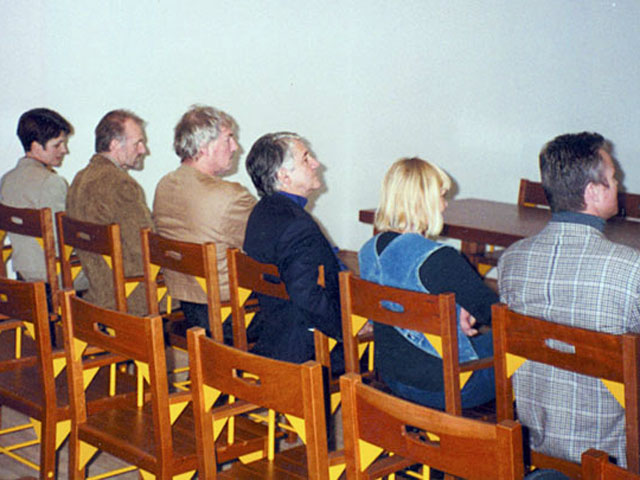 Voor een lezing heeft een aantal kunstenaars plaats genomen op 'il Museo', de stoel die architect Aldo Rossi in 1993 ontwierp voor het Bonnefantenmuseum in opdracht van de stichting.