Hustinx resident Minas Borboudakis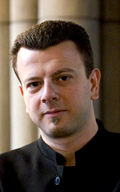 De Griekse componist en muzikant Minas Borboudakis (geboren in 1974 in Heraklion) was de Hustinxresident in 2013-2014. Minas Borboudakis is een kunstenaar met veel geestdrift, hij is innovatief en dynamisch. Hij heeft ervaring als docent en hij treedt geregeld op in master classes.
Composer Minas Borboudakis about Angels
A few years ago, 1 saw a large poster near my atelier in Munich asking me: 'Where is your angel?' 1 do not actually consider myself a fan of esoteric trends, but 1 took that as a sign. 1 saw dancers dancing in front of me and heard intense music. Walking towards my atelier 1 was thinking about the two perspectives from which angels have been portrayed by religion, literature and art through the centuries: the sensitive and solicitous, found in numerous works of art from the Baroque to the present, and the gigantic and powerful. For the first type 1 heard sustained metallic sounds, for the second the sound of bass drums. When discussing a new project for the percussion department with the Maastricht Academy of Music in the autumn of 2012, 1 felt sure that the topic of angels, which 1 had on my mind, would be the right one! 1 started planning the piece and soon 1 could 'see' a form of seven images, in a work for percussionists, dancers and loudspeakers surrounding the audience. A piece which would show seven perspectives on the figure of the angel, without a story. Fragments ofvarious texts would support the music and lead to free dramaturgy. In addition, a personal philosophy of mine should run below the seven images, forming the thread of a non-existent story. In my philosophy, a newborn chi Id cornes into this world as pertect as an angel. ln the course of its life, the child (or an gel?!) becomes a human being when it encounters the various faces of life. Through passion and resurrection in every single moment of life, the human being finds his ange l, finds his way back to his own angel!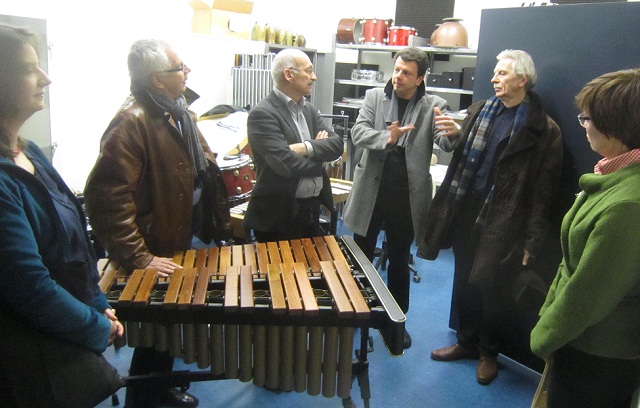 In het slagwerklokaal van het Maastrichts Conservatorium legt Minas Borboudakis uit aan Lene Ter Haar, Pieter Janssen, Jan Rademakers, John Slangen en Janicke Kernland welke instrumenten in zijn compositie bespeeld moeten worden.
De compositie is enkele malen uitgevoerd door de slagwerkafdeling van het Conservatorium Maastricht en performers van de toneelacademie (Jan van Opstal). Hiervan is een CD gemaakt die u gratis zal worden toegestuurd als u naam en adres opgeeft aan info@hustinxstichting.nl.